The Opportunity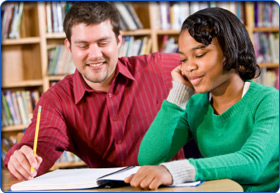 Many high caliber people enter the teaching profession but most fade out of the profession within 3-5 years – disenfranchised by the work required versus money earned.  Some stay in education but in other capacities, as administrators or district level staff.  We need to keep these people in the classroom where they will be making an impact on kids on a daily basis.  Study after study has shown that the number one determinant of student success is the quality of the teacher in their classroom. With just a few extra hours of work each day Top Teacher Test Prep teachers can expect to supplement, equal, even double their salaries.
Within 3 years of starting Ace It Test Prep, LLC I was equaling my teacher's salary.  Now after 7 years I have more than doubled it.  Many people ask me why I don't just quit teaching and do this full time.  The answer is simple; I, like many of you, love teaching.  It just doesn't pay enough.  So by becoming an SAT / ACT tutor I get to continue doing what I love, make my own hours, work as much or as little extra as I want, and still do my day job.  The extra hours are also an extension of what I love to do – helping kids.
With recruitment opportunities the earning potential expands even further.  Our goal is to put high quality teachers into classrooms around the country and reward them for being there.  Once you are a member of the Top Teacher Test Prep community you can earn bonuses for recruiting others into the program.  The potential for growth is literally endless.